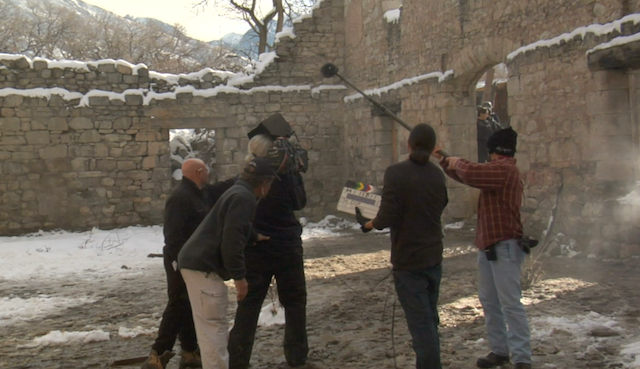 From dazzling animations never before possible to traditional shorts made with the finesse of a much more experienced director, festivals around the world have seen a steady increase in the quality of work produced by film students. We saw some of these high quality works firsthand during our recent student film competition. Advances in digital media, 3D printing, and even tablets have allowed these fifteen student filmmakers to make engaging projects that show off their technical savvy and give us a glimpse into the future of filmmaking.
1. Aron Bothman, CalArts
A recent graduate of the CalArts animation program, Bothman's work has made waves at film festivals and among tech bloggers for his innovative approach to 3D printing. By filming a modified printer that "prints" light fractals instead of solid objects, he added fascinating visuals and technical flare to his senior thesis, "The Red Witch".

2. Deepak Chetty, The University of Texas at Austin
Last fall, The University of Texas proudly presented their first 3D Masters Thesis film, "Hard Reset", by Deepak Chetty. Since graduation, Chetty has been translating his tech-influenced visual style and mastery of popular techniques into cinematography work, commercials, and short viral sensations like "Looper 8-bit", a low-fi, video game style take on the film "Looper".

3. Cameron Covell, USC
20-year old Cameron Covell earned attention from the USC community as a U.S. Presidential Scholar in the Arts, but his sweet and earnest short film "The Most Beautiful Thing" put his work on more than 3 million computer screens after becoming an internet sensation. Showing an eye for story and cinematography, Covell promises to deliver even better works as he continues in his education and in the industry.

4. Ross Domoney, National Film and Television School, U.K.
Active in the UK as a freelancer and having recently won the "Best European Independent Documentary Award" at the European Independent Film Festival with a powerful documentary "Gazi to Gezi: a stones throw away". Similar documentaries from his time in school tackle tough international issues and human rights violations, showing the promise of powerful documentarian on the rise.

5. Samantha Gorman, USC
A doctoral candidate at USC studying Media Arts + Practice, Gorman has already brought theory to life with the experimental "Pry", which her website describes as an, "...App novella that re-imagines the form of the eBook." Combining cinema and literature expressly for tablet technology that engages viewers with touch screens, Gorman has already garnered interest from the LA Review of Books and was a finalist at last year's Future of Storytelling event.


6. Christene Hurley, University of North Carolina, School of the Arts
Hurley's second year film, "Helpless" at UNCSA earned the prestigious honor of Best Short Film from Women In Film & Television at the 2014 Nashville Film Festival, helping her to be featured by Variety as a "Student to Watch". A successful student project that shows the development of a strong point of view, Hurley is at the forefront of women breaking into the film industry.


7. Christian Lavarre, Rhode Island School of Design
Showcasing a more whimsical point of view, RISD student Lavarre combines humor, music, and simple animation to create a vibrant and strange short that made waves on various websites over the last year. Unique, offbeat perspectives can pave the way for new styles and trends in comedy and animation, and Lavarre's potential has already captured the attention of the internet--io9 referred to it as, "brain-meltingly weird"--wider audiences are probably not far behind.


8. Daniel Masciari, Ithaca College
Highlighting one of the most important skills learned in film school, Masicari has positioned himself as a promising up-and-coming editor. His work on the gorgeous natural imagery for "Water in the Cloudforest" helped that nature documentary gain the attention of the Smithsonian, being selected as a winner in the 2014 Motion Video Contest and the Student Documentary prize at the Broadcast Education Association's Festival of Media Arts.


9. Alissa Milano, SUNY Purchase
Noted by Variety for her experimentations with film and social media, this New Media student from SUNY Purchase has earned attention from the film and art worlds for videos using personal text message exchanges as the script. Her Tumblr displays the rest of her bold works, showing her potential to further blur the line between traditional film making and contemporary digital storytelling as an art form.


10. Jonah Nigro, Bennington College
Another student filmmaker and artist utilizing mobile technology to change the way audiences think about narrative, Nigro's trippy student project installations and animations have been getting internet attention over the last two years, while industry insiders have been paying special attention to an app he is developing that will allow users to share their own digital content with others based on their location.


11. Ian Garrido Lopez, ESCAC, Spain
Claiming a joint third prize at this year's prestigious Cinéfondation, the student competition at Cannes, Lopez's film "Victor XX" shows the power and potential film has to address current social issues around the globe. The story of a young transgender trying to come to terms with his identity, Lopez combined gorgeous, traditional cinematography with handheld digital footage to put audiences into his main character's unique point of view--an impressive feat for a young director.


12. Pippa Bianco, AFI Directing Workshop for Women

The big winner out of Cinéfondation this year also tackled big issues with her camera. To finish up her time at AFI's prestigious Directing Workshop for Women, Bianco crafted "Share" to address the effects of social media on today's young women--the perfect subject matter for a female director coming into her own as an important voice in film.


13. Alyce Tzue, Academy of Art, San Francisco
A recent graduate of the MFA program at ACA San Francisco's School of Animation & Visual effects, Tzue has earned the title of Best Student Animation at the Palm Springs festival, BAFTA US Awards, USA Film Festival, and a gold medal from the Student Academy awards. In addition to being charming, her thesis project was also a major undertaking combining 3D modeling, animation, and post production work on scale with a smaller studio film.


14. Alexandre Peralta, USC
To complete a documentary for his MFA thesis at USC, Perlalta returned to his home, Brazil, and brought the compelling story of the country's only blind ballet to the screen. "Looking at the Stars" earned him a gold medal from the Student Academy Awards and honors from several American and international film festivals.


15. Henry Hughes, AFI Institue
The AFI Institue shut out all other film schools in this year's Student Academy Awards' Narrative division, and the stand out is Hughes. After two combat tours in Afghanistan, this second year directing MFA student has brought to life the true story of an Afghan-American woman working as a translator for the US military. Hughes shows the promise of a great director that can bring out all the drama and excitement possible from a complex and challenging story.

As these promising fifteen students show, emerging technologies have opened up limits previously put on students by time and money. With the potential for student projects to achieve more increasing every year, VideoBlocks gives all students access to professional footage, music, and sound effects they can use to enhance their own ideas. The next great filmmakers and pioneers in digital media are already out there working and waiting for their chance to showcase their talents.