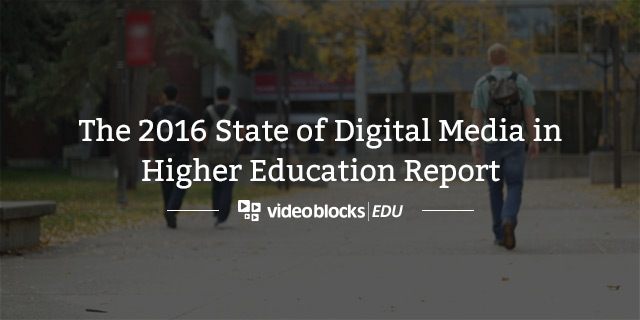 The 2016 State of Digital Media in Higher Education Survey, gathered insights from more than 300 current educators, administrators, and students that hail from more than 200 universities. The survey examined topics critical to today's universities, including digital literacy, media usage and access, and copyright compliance.
"We were surprised by the wealth of insights that we received from the survey and are pleased to share the results with the academic community" said Patrick Merfert, Director of Education Services at VideoBlocks EDU. "It is our hope that the report can help faculty and administrators better understand the key challenges and benefits of digital media in higher education."
Over the past decade, digital media production and consumption has increased exponentially, permeating our daily lives and unlocking new ways to communicate, teach, learn, and work. With the ascent of digital media and related technologies, universities recognize the need for helping students achieve digital literacy standards and prepare for 21st-century careers.
The question is no longer whether schools should work toward curricula that embrace digital media. Rather, it is a question of how educators can best incorporate digital media resources and digital literacy competencies into their courses. One of the biggest roadblocks for educators building digital literacy practices in the classroom is a lack of university-provided resources to digital media.
As we look to the future, it is important that educators continue to work on closing this digital literacy gap and that universities provide the necessary digital resources and funding to achieve this goal.

Key Findings
Digital Media: Agreement over positive impact, but university resources lacking
91% of faculty say that including digital media in course materials/lectures improves student learning outcomes, and 76% of students say multimedia-enhanced lectures are more engaging.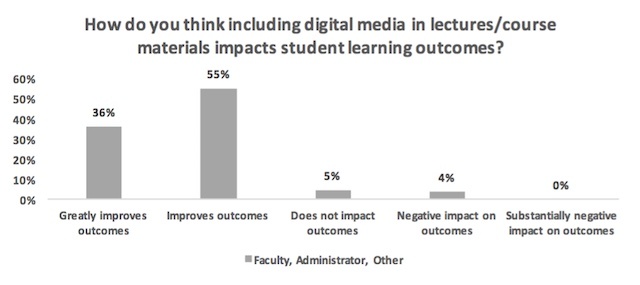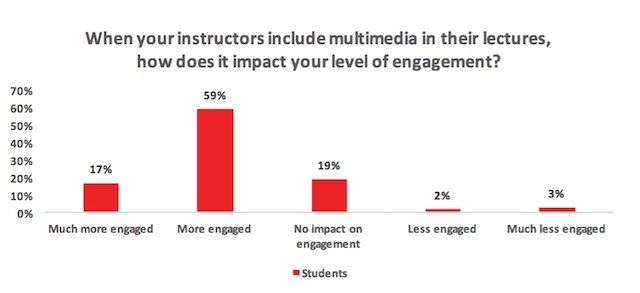 44% of faculty and 30% of students rated their access to digital media through university-provided resources as only average or below average.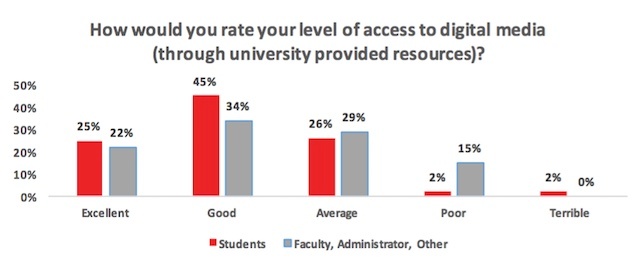 Digital Literacy: Students and faculty disagree when evaluating their own digital literacy competency vs. each other's
45% of students consider themselves as highly digitally literate. However, only 14% of faculty consider their students as highly digitally literate.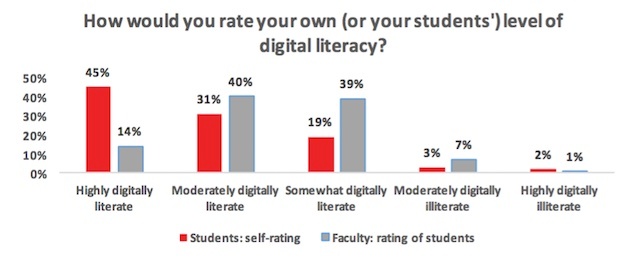 49% of faculty consider themselves as highly digitally literate. However, only 23% of students thought of their instructors as highly digitally literate.
Copyright Compliance: A mismatch in perceptions and lack of enforcement
31% of students rated themselves as very or extremely knowledgeable about Copyright/Fair Use policies. However, only 5% of faculty rated their students similarly, while 23% of faculty said their students were not knowledgeable about the topic at all.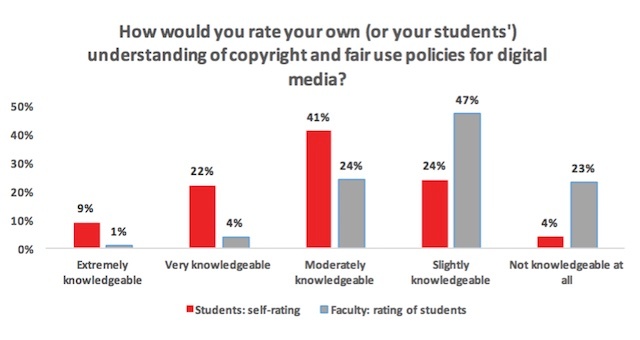 32% of faculty say that their university enforces digital copyright policies too little and 21% of faculty respondents never verify copyright compliance of students' work. Students follow suit with 45% checking their own compliance either half of the time or less.