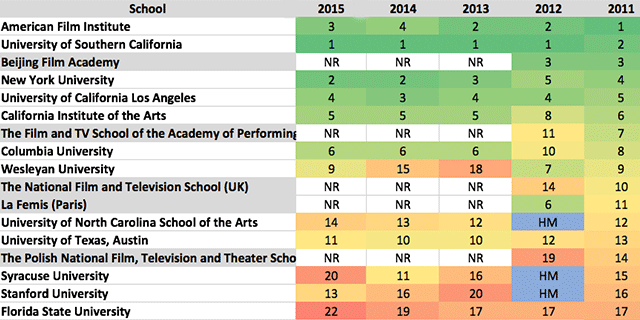 Recently, we investigated the data behind The Hollywood Reporter's yearly film school rankings, exploring what it took for cinema programs to be "the best." As we mentioned then, one of the first things noticeable about THR's lists was the switch from including international schools in its lineups to focusing only on schools within the United States. As a result, a number of important and impactful programs around the world have seemingly disappeared from the trade magazine's notice—many of them more selective and innovative than U.S. schools. To make up for this, we've compiled a rundown of some of the best international film schools.
In creating our list, we began with THR's 2011 and 2012 rankings, which included a number of international cinema programs—some of which ranked quite highly. In both years, the Beijing Film Academy consistently ranked #3 while the Film and TV School of the Academy of Performing Arts in Prague (FAMU) ranked #7 and #11 in 2011 and 2012 respectively. To build our list further, we consulted other industry trades, including Variety, looking for the most noteworthy and newsworthy film schools in recent years. The result is a lineup of the 13 international film schools considered to be the top of the top by filmmakers and industry insiders the world over. Many of these schools made the list for their continued prestige and storied history while others were added because of their commitment to advancing both the art and business of film. Since no two publications agreed on which program was the absolute best, nor even which international program was the oldest, we've chosen to list the schools unranked and in alphabetical order.
Australian Film, Television and Radio School
Ranked as one of the top 20 film schools in 2012 by The Hollywood Reporter, including American film schools like UCLA and USC, AFTRS has grown its student body by more than 1000% in the past ten years. With a recently added campus proximate to Fox Studio's Sydney hub, students have direct access to industry influencers and teachers, as well as competitive internship options.
Beijing Film Academy
Outranking prominent U.S. film schools, including NYU or UCLA, in 2011 and 2012 The Hollywood Reporter named the Beijing Film Academy as the third best film school in the world. Although THR has since excluded international schools from its charts, in many respects, BFA remains the best international film program in the world. With just over 100,000 applicants each year, BFA accepts only 500, making its admissions process more selective than American Ivy Leagues or top-tier U.S. film programs, such as those at AFI or USC.
Centro de Capacitacion Cinematographica
Located in the heart of Mexico City, CCC is Mexico's preeminent film institute. Participating in over 100 international film festivals and events each year, CCC's student films have a knack for earning critical acclaim and juried awards, including Student Academy Awards and the much-coveted Palme d'Or at Cannes. Arguably as selective as the Beijing Film academy, each year the CCC only accepts two international students (who are not Mexican citizens) into the program.
Centro Sperimentale di Cinematografia
Not far from the sound stages of the legendary Cinecittà studios in Rome, CSC is often considered the oldest film school in Western Europe. Founded in 1935 by Luigi Freddi, Benito Mussolini's head of the General Directorate of Cinematography, CSC has expanded far beyond the scope of Freddi's original vision for nationalist cinema and claims seminal filmmakers including Giuseppe De Santis, Michelangelo Antonioni, and Dino DeLaurentis among its notable alumni.
The Film & Television School of the Academy of Performing Arts in Prague (FAMU)
As one of the oldest and most prestigious film academies in the world, FAMU's appeal has as much to do with its international presence as it does with its local history. Founded in 1946 under Soviet rule, the school played an important part in Czechoslovakia's Velvet Revolution as a hub for fomenting student rebellion. Today, FAMU draws students from around the globe for classes taught in both English and Czech, often by prestigious alumni like Milos Forman, in partnership with U.S. film programs, including NYU, American University, and Yale.
Gerasimov Institute of Cinematography (VGIK)
Founded in 1919 in Moscow by Lev Kuleshov and Vladimir Gardin, VGIK is arguably the oldest film program in the world. One of the founding fathers of cinema, Sergei Eisenstein, not only taught at the school but also reportedly invented the art of montage while there with his 1925 film Battleship Potemkin.
Korean Academy of Film Arts
Although KAFA was founded in Seoul by the Korean Film Council relatively recently in 1984, the school has become a powerhouse for domestic and East Asian regional cinema. KAFA's influence and that of other big regional players like the Beijing Film Academy cannot be understated. In recent years, many American blockbuster films have struggled in East Asian markets when programmed against popular domestic releases from strong, internationally recognized filmmakers like KAFA's own Bong Joon Ho. Notably, Bong has brought KAFA even more prestige as he has crossed over to Western markets with his critically-acclaimed films The Host, Mother, and Snowpiercer.
La Femis
Based in Paris and founded in 1943, La Femis is considered one of the top ten film schools in the world by The Hollywood Reporter, both because of the rigor of its curriculum and the opportunities it affords its students. With free tuition for all students hailing from the European Union, La Femis only accepts 44 of the more than 1,100 applicants each year.
Lodz Film School
Founded in 1948, The Polish National Film, Television, and Theater School is home to the divisive filmmaking master Roman Polanski. The program distinguishes itself by giving its students an opportunity to work with professional 35 mm film stock—an industry standard that has become increasingly uncommon in many film schools as they transition to digital cameras.
The National Film & Television School
With students whose films routinely sweep the BAFTAs and Cannes, London-based NFTS focuses as much on the business of filmmaking as the craft. NFTS boast a remarkable average of 70% of school graduates finding job placements in the industry—an uncommonly high number given the competitive nature and mercurial ebb and flow of creative-based job markets.
Norwegian Film School
With an eye towards the future of the entertainment industry, NFS played an important role in Netflix's move towards high-quality in-house productions. In 2011, when Netflix began filming its first original show, Lilyhammer, NFS students, faculty, and alumni represented a large majority of the productions' cast and crew. Since then, the school has started its own Worldwide TV Drama Festival in conjunction with Lilyhammer star Steven Van Zandt.
Tel Aviv University
After a recent endowment of $10M, Tel Aviv University has been making waves in the film world with its new Steve Tisch School of Film and Television. In the past, Tel Aviv's program has housed the likes of Ari Folman, who created Waltz With Bashir, and Hagai Levi, the inspired writer behind In Treatment and The Affair.
University of Television & Film Munich (HFF)
Ranked by THR as one of the top 20 film schools around the world, inclusive of U.S. programs, Germany's premier cinema school opened in 1967 and has dominated the international film world ever since. With an equal emphasis on technical training and creative innovation, HFF has produced a number of influential filmmakers, including the founder of New German Cinema, Wim Wenders.