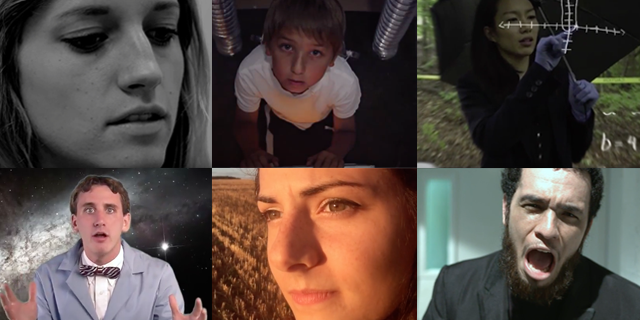 We're excited to announce the six finalists in our Student Film Competition, which was open to all undergraduate and graduate level student filmmakers. We received submissions from talented and dedicated filmmakers all over the globe, and we were thrilled by the many, many creative ways they found to incorporate our VideoBlocks and AudioBlocks content into their projects while pursuing their unique creative visions. Thank you to everyone who submitted for helping to make the competition a success!
Currently our guest judge, cinematographer and director of photography Arthur Albert, is reviewing our finalists' videos, and we will be announcing the grand prize winner in early December. The first prize winner will receive $5000, and we will award an additional $1000 to his or her sponsoring professor. The remaining finalists will also receive $1000 each. Originally, we planned to have only five finalists but after reviewing the strength of the submissions, we had a tied vote in our first round of judging. We want to celebrate the talent of our student contributors, so we will now be giving away a total of $11,000 in cash prizes.
The competition was designed as an initiative to support the artistic development of the next generation of directors, cinematographers, and producers. Here at VideoBlocks for Education we are dedicated to helping student filmmakers bring their vision to life by providing the video and audio elements needed to create professional cinematic features.
And so, without further adieu and in no particular order, we give you our six finalists.

Sally's Playtime
Submitted by Adonis Lugo, The Art Institutes: Miami International University of Art and Design
Adonis used content from both our VideoBlocks and AudioBlocks libraries to create a haunting film based on an experience he had one night at his apartment. "I woke up in the early hours of the morning when I heard a noise from outside," he wrote us. "As in most horror movies, there is always that person who walks into the shadows looking for danger. Yeah, that was me." Unable to return to sleep, Adonis set to writing out the details. What resulted from Adonis's late night scare is a film with a distinctly cinematic feel, due in part to his flickering opening sequence and careful sound editing, both of which are essential to setting the dark and foreboding tone of his film.
You can see more of Adonis's work on Vimeo or find him on LinkedIn, Facebook, Twitter, and IMDB.

Ben Blast's Science Class
Submitted by Patrick McManaman, UMass Lowell; created by Patrick McManaman, Cameron Parmenter, and Ben Braz
In making this video, Pat, Ben, and Cam had a number of chances to perfect their green screen technique. This was their first time working with the screen, and although they were excited by the opportunity, it presented its own set of unique learning challenges. As Pat wrote us, "the green screen was going to give us a wider pallet of settings we could put Ben Blast in, but the challenge was utilizing it in a way that did not make it appear gimmicky." In the end, they created a video that's as stimulating to the mind as it is to the eyes with their creative uses of animation. Likewise, their mix of real world and green screen settings pulled from our VideoBlocks library is perfectly suited to their well-aimed send-up of Bill Nye the Science Guy.
More of Ben, Pat, and Cam's projects, along those of their fellow student filmmakers at the University of Massachusetts, can be found on YouTube. You can also fin Pat's work on his website.

Sigma
Submitted by Nicky Alfieri, Pellissippi State Community College
One of the highlights of this project for Nicky and his team was working with a variety of different equipment, including a DJI Phantom Drone 3 and a MoVi M10 gimbal stabilizer, to achieve some of the fantastic shots in their film. They also learned a lot about making movies on-the-fly; they shot the entire production inside of seven days and without a production budget. Nicky credits their success to the cohesiveness of their team: "[We were] able to create a totally original film in seven days because of everyone's willingness and specialized skills that took the film to the next level." Ultimately, from the inventive shots used to the film's strong sound editing—including the stock audio pulled from our AudioBlocks library—Nicky's team delivered a riveting location-hopping thriller while under considerable time and budgetary constraints.

You can find more of this team's projects through the YouTube pages for FARfilms Productions, NV Productions, and Edycion.
Interim
Submitted by Olivia Graziano, Houghton College
Please note that the following submission contains imagery that, while not graphic or intentional, bears some thematic similarities to the recent events in Paris.
The inspiration behind Olivia's project was deeply personal, based on a friend's near death experience. "I knew a friend that had a heart attack due to complications from her eating disorder and she was pronounced dead at the scene," she wrote us. After EMTs revived her friend, Olivia had a few brief moments to talk with her. "She could hardly put her experience into words. The only thing she could manage to say was that she saw her entire life play back in her head—her sense of time was completely lost and her memories didn't happen in any chronological order." With this in mind, Olivia constructed a beautifully rhythmic montage—using a blend of both her own footage and our stock—that she's punctuated with soulful close-up's of her actor's reactions.
You can follow Olivia's work on Instagram, Facebook, and Vimeo.
Hypochondriac
Submitted by Jacob Kline,

California State University, Long Beach
It's impossible to talk about how to make a successful horror project without acknowledging the importance of sound and lighting, both of which can set the tone of a film and create onscreen tension before the first actor even appears. As a fan of horror films, Jacob knows this, citing the work of Eli Roth as his inspiration, as well as the films Eraserhead (1977) and The Babadook (2014). "The use of lighting in the two [films] are done perfectly and really create a sense of unease," Jacob told us, "which was my main want for the project to emulate." The result is an eerie short film in which the tension is as much felt as it is seen, thanks in large part to Jacob's incorporation of an array of sound effects from our library, as well as his use of high contrast lighting for a black and white shoot.
You can find Jacob's work on YouTube.

Still, We Dream
Submitted by Nick Garrett, Weber State University
For Nick, this film became something of a passion project, using his own filmmaking dreams as the vision behind the video's strong inspirational message: "Being a student and working to pay for school, stuck in a day to day routine gets very frustrating… I wanted to capture that emotion while also tying in two characters that represent those who encourage me to keep going and those who try to hold me back." Nick universalized his experience with the film's moving aspirational montage, using both his own footage and clips from our stock library to depict how a young boy's dreams of becoming an astronaut never really leave him as his grows up.
You can find more of Nick's work on YouTube via Fourth Paragraph and Nick Garrett Productions, or find him on Twitter and Instagram.
We hope that you enjoyed watching our talented finalists' films and you can see the grand prize winner here!