Here at VideoBlocks for Education, one of our company's core values is that "we heart data," which is why we began to wonder after looking at the numbers from The Hollywood Reporter's most recent film school rankings, what exactly does it mean to be on the top, and how do schools get there?THR has released its rankings of the top 25 film schools—decided by its secret panel of "indie insiders, academics, and industry titans"—every year since 2011. Looking across the years, there are several notable consistencies in its rankings, including a (relatively) static Top 5, but we've also seen a few remarkable surges and drops. Although THR remains opaque in its criteria when it publishes its lists, we've dug into the data and read between the lines to bring you our take on what it takes to be a top-ranking film school.


International or National?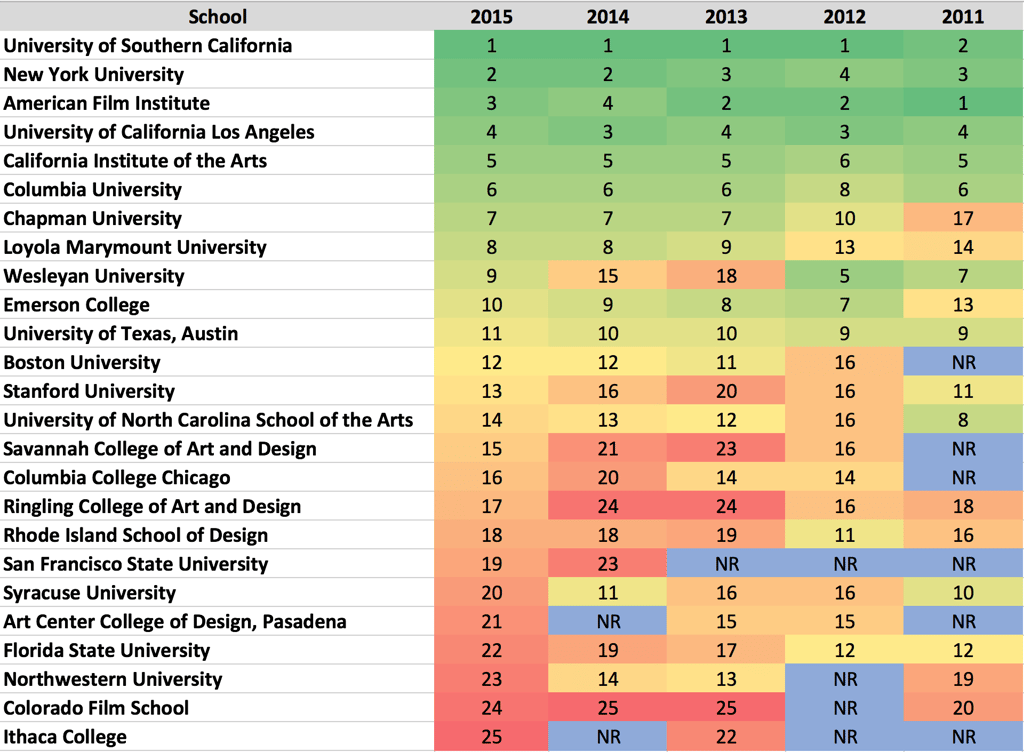 (Table of The Hollywood Reporter's Top 25 rankings since 2015, excluding international schools. Notes: The 2011 and 2012 Rankings have been adjusted to reflect the removal of international schools. The schools listed as honorable mentions in 2012 have been assigned a rank of 16. NR = not ranked)
One of the first things we noted in the rankings was The Hollywood Reporter's switch from including international schools in its lineup to focusing only on schools within the United States. In 2011 and 2012, THR included a number of international schools—some of which ranked quite highly. In both years, the Beijing Film Academy consistently ranked #3 while the Film and TV School of the Academy of Performing Arts in Prague ranked #7 and #11 in 2011 and 2012 respectively.
Similarly, in 2012 THR also listed an honorable mentions list of "schools to watch" that were unranked—several of these schools made it to the ranked 25 in the following years, while the international film schools disappeared from the list entirely.
While THR does not reference its change in methodology, it's important to recognize how the inclusion or exclusion of international schools can affect ranking comparisons. For instance, UCLA's film school appears to rank consistently #4 in 2012 and 2013; however, in 2012 the Beijing Film Academy ranked #3. If we adjust the data for 2011 and 2012 to include only film schools in the United States, UCLA was in fact the #3 school in 2012, while it experienced a drop to #4 in 2013.

(Data from The Hollywood Reporter 2011-2015)

(Data from The Hollywood Reporter 2011-2015 after adjusting for international schools)


Surges and Drops
Although many of the schools on The Hollywood Reporter's lists have remained in relatively the same rank, perhaps only varying by one or two slots, there are a handful of schools that have seen dramatic increases or decreases. Chapman University is one such example; in 2011 Chapman was ranked #22, then #13 in 2012, and has held steady at #7 since 2013. Even adjusting for international schools, Chapman still began at the #17 slot in 2011, positioning it for a net gain of ten to reach #7 in 2013.

(Data from The Hollywood Reporter 2011-2015, excluding international schools and adjusted)
Meanwhile, after THR began excluding international schools, Wesleyan University experienced an unexpected and precipitous drop in rankings, from #5 in 2012 to #18 in 2013, but has recently rallied at #9 in this year's rankings. In both Chapman's and Wesleyan's cases, acknowledging the fluctuations around international schools and THR's shift in methodology from 2012 to 2013 only accounts for so much.

By all appearances, based on the reporting accompanying THR's yearly rankings, Wesleyan suffered in the lists in 2013 and 2014 not through any loss of its own prestige, but because of the comparison to other schools. These were prominent years for innovation for a number of other still growing film programs. Yet, turnabout is fair play, and Wesleyan's most recent uptick in ranking can certainly be attributed, at least in part, to its film school's new $6 million endowment from the Andrew W. Mellon Foundation and its subsequent rebranding as the College of Film and the Moving Image.
Similarly, looking at both the data and THR's reporting, Chapman's continued status as the "most improved" in the lists owes much to the university's constant push for advancement. From 2011 to the most recent ranking in 2015, Chapman has invested substantial funding into its production and post-production facilities, keeping current with the latest innovations in the industry, while also offering a significant filmmaker-in-residence program that includes prominent names such as Bong Joon-ho and Robert Zemeckis.


Opening Doors and the Future
The Hollywood Reporter is first and foremost an entertainment trade paper, so it should be no surprise to anyone that its rankings favor industry-leaning and industry-leading institutions. It's not a coincidence that four out of the five top ranking schools since 2013 are based in the Greater Los Angeles area.
Of course, THR's secret panel of judges isn't evaluating schools solely on their geographical location—quite the opposite, in fact. In combing through THR's yearly explanations of its rankings, we recognized that the most important factors in a school's rank were related to the resources and opportunities it could offer its students:
new endowments, improved facilities, or technological upgrades

notable faculty, deans, or guest lecturers

varied course offerings reflecting both the current and future state of the industry

substantial internship opportunities for current students

substantial job opportunities for recent graduates

support from celebrity alumnae
Yet, looking at these criteria, we can see why physical proximity to the film industry might play a tacit role in the rankings; although schools might be able to offer students opportunities absent of Hollywood—as NYU does—ease of access certainly becomes a factor.
Despite the issue of geography, there are still valuable takeaways in these criteria for all film programs, not just the ones within driving distance of major studio backlots. At the crux of the issue lie the interests of the students; will their film education give them a firm grasp of the past, present, and future of their craft? And can it open doors for them? For top-ranking programs, the answer must always be "yes."
To view all of The Hollywood Reporter's film school rankings over the years, including international programs in 2011 and 2012, click here.