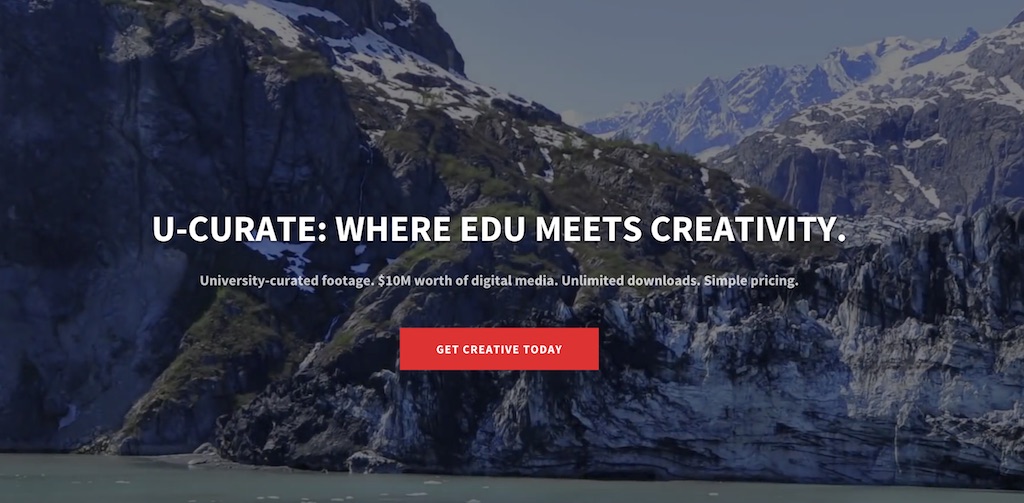 VideoBlocks for Education is excited to announce the launch of U-Curate, a centralized content management platform that allows faculty, students, and campus media designs to discover and download both university-created footage and the $10M of royalty free digital media found in the Digital Backpack. Initially developed in concert with the University of Minnesota, VideoBlocks is now proud to offer its U-Curate platform to the entire educational community.
At its heart, we designed the platform to help universities more fully realize the potential and impact of their digital resources and assets. From impressive media labs and makerspaces to vital repositories of digital educational resources, universities across the globe are making important investments in their students' technological and educational futures. Yet, too often campuses lack the digital architecture to connect the dots between their already existent media assets and the offices, classrooms, and labs that would most benefit from that content. U-Curate answers this problem by surfacing and distributing university creative media through the platform's powerful content organization system.
Universities will be able to select and upload their own footage into the secure U-Curate platform, which will be made searchable and available to all authorized users within each university's individual media library. Faculty, students, and staff can then easily browse, discover, and download their campus' unique media for their creative digital projects. This makes formerly unavailable and disparate collections of university footage exclusively available and readily accessible to all authorized community members. Additionally, U-Curate customers will have access to $10M worth of royalty-free creative digital media found in the VideoBlocks Digital Backpack.
"Since launching the Digital Backpack, it has received a lot of attention and praise from the higher education community. However, we repeatedly heard from our clients that they wished they could host and managage their own creative content right alongside VideoBlocks' content in a centralized location and make their content easily searchable and accessbile to the campus community. U-Curate was our response to this valuable feedback and built in conjunction with Edu for Edu."
- Bob McDonald, Director of Education Services at VideoBlocks EDU

Of the many additional benefits of our content management system, the analytics available to universities using U-Curate is both unique and important. By accessing search and user data, universities can find out what creative searches their community members are running. From this, they can, in turn, learn what creative media needs are being met, and what digital content gaps still exist.
At the moment, U-Curate only supports video media, including film footage, After Effects and Apple Motion templates, and animations, but we are looking to change this in the near future. By expanding the platform to even more types of creative media—including photography, graphics, and audio—we hope to further advance our mission of delivering creative freedom to college campuses across the globe while encouraging the ethical use of digital content.
To learn more, please visit: U-Curate.com or Download the U-Curate Product Overview.